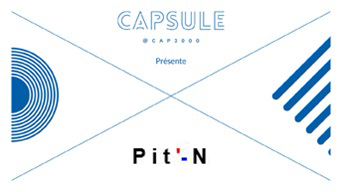 Pit'- N
Orari di apertura

Lunedì - Sabato: dalle 10:00 alle 19:00

Domenica: dalle 11:00 alle 19:00
Pit'- N
Pit'-N - Nautical jewelry and accessories

CAPSULE@CAP3000 invites you to discover the French brand of nautical jewelery Pit'-N, creations in rope and stainless steel, collections of unisex marine bracelets made in France for lovers of the sea. Multiple color combinations, adjusted sizes and custom jewelry creations. Pit'-N creates elegant marine accessories and jewelry for freshwater sailors, for adventurers of the high seas and the depths of the ocean.

Designer Valérie Lejeune Crombecq makes high quality sea and freshwater jewellery. Pit'-N dit Capitaine, the story of an encounter and a passion for the elements.

You choose the color and finish of your jewel from the collection. Also, personalized advice is offered to you in store for the tailor-made creation of your favorite piece of jewellery.
A unique and authentic gift for all occasions for women and men.


Navigate the waves with Pit'-N!