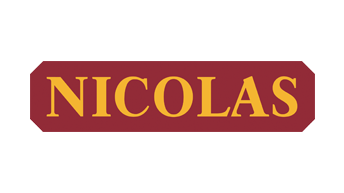 Nicolas
Orari di apertura

Lunedì - Martedì: dalle 10:30 alle 20:30

Mercoledì: dalle 10:30 alle 10:30

Giovedì - Sabato: dalle 10:30 alle 20:30
Nicolas
Nicolas: a wine and champagne store at Saint-Laurent-du-Var, near Nice.
Today, Nicolas wines has 549 stores all over Europe and a turnover of 350 million euros. The wine merchant is part of the Castel group.
Nicolas has always innovated, even with a product like wine, which is as old as the world. It was the first to suggest selling wine in bottles rather than by measure; the first to organise home deliveries with trolleys and then tricycles; the first to offer a complete range of French and terroir wines; the first to launch Beaujolais nouveau in Paris and the first to revive the attraction of Vins de Pays with its range of small-producer wines in bright, sparkling coloured packaging.
The first Nicolas stores, specialising in wines and spirits, opened their doors in the centre of Paris in 1822, a year after the death of Napoleon I. The company made its name with the idea of providing higher quality and better service at a reasonable price. In 1900, Nicolas had 42 branches in the Paris region, 138 in 1919 and 233 in 1932.