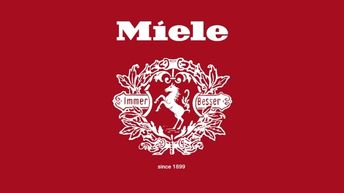 Miele
Orari di apertura

Lunedì - Sabato: dalle 10:00 alle 19:00

Domenica: dalle 11:00 alle 19:00
Miele
For more than 120 years, Miele, a family-owned company, has put excellence at the heart of everything it does, staying true to its motto Immer Besser - Always Better.
Every Miele appliance is designed and tested to last up to 20 years to ensure maximum longevity, reliability and performance for every product over time.



Miele is the only brand in the industry to offer a 10-year extended warranty for its appliances, as well as spare parts available for 15 years* after the products are discontinued.

And to support its customers throughout the life of their appliances, the brand has its own after-sales service department with a complete range of services and more than 100 technicians, brand experts, who can intervene anywhere in France.
This brand commitment to sustainability reflects the delight that Miele wants to offer every customer when using its appliances. For a long time.