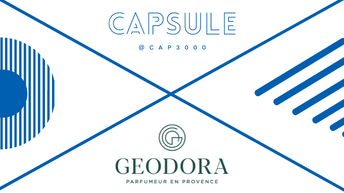 GEODORA
Orari di apertura

Lunedì - Sabato: dalle 10:00 alle 19:00

Domenica: dalle 11:00 alle 19:00
GEODORA
GEODORA is a French luxury perfume brand born in Provence near Grasse created by a French perfumer, Gérard Gatti, with the aim of bringing a new approach to the luxurious world of perfumery. For GEODORA beauty and ethics are intertwined. Only the best ingredients are used in the GEODORA range.
Ethically sourced, our ingredients are superior, elegant, and indulgent. Partnering with French suppliers renowned for their impeccable skill and expertise, all our products are proudly designed and manufactured in France.
At GEODORA we have made some daring choices to enhance the quality of our perfumes, including a long maturation process to ensure the desired depth and quality is achieved, and optimal storage and packaging through the use of light resistant aluminium bottles allowing GEODORA to avoid secondary packaging. Our aim is TO CREATE BEAUTY AND TO DO GOOD.
Contact us : 09 74 97 05 01