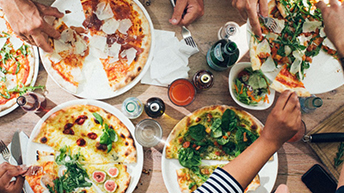 Vapiano
Ristoranti Vista sul mare
Orari di apertura

Lunedì - Sabato: dalle 8:30 alle 21:00

Domenica: dalle 9:00 alle 20:00
Vapiano
From the pasta prepared daily in the "Manifattura" to the desserts, homemade dishes cooked right in front of guests and the freshness of products are at the heart of Vapiano's values.
Each dish is a flavourful taste experience that transports our guests under the sun of Italy.
When we push the door of a Vapiano restaurant, we are reminded of Italy.
Lighting similar to natural sunlight, the noble materials of the furniture, the green walls and the multi-centenary olive trees, every detail immerses our guests into the heart of a true Mediterranean decor.
The Milanese architect and interior designer Matteo Thun wanted to transcribe in the construction of the restaurants all the freshness and quality of the Vapiano cuisine, creating a cosy atmosphere, typical of Italy.